You can add new contacts to your address book in the following manner:
Access the main page of the Video Door Phone application.
Tap the icon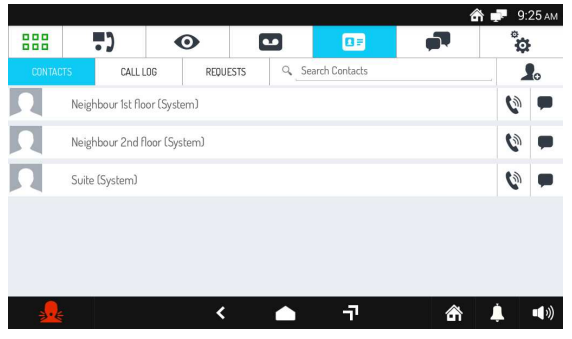 The address book will open. Tap the icon
A page opens where to enter a new contact request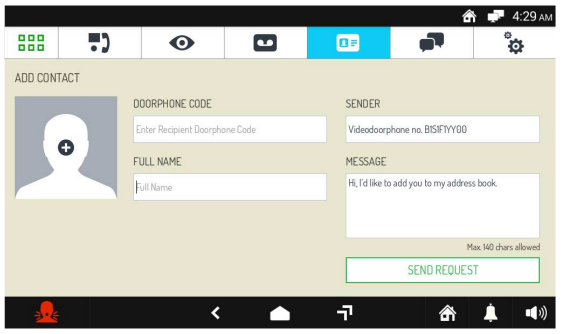 Tap the various fields to enter the required data:
VIDEO DOOR PHONE CODE - The identifier code of the 1717/4x Video Door Phone that you wish to add to your address book and be read in the bottom-right corner of the Video Door Phone Home Page of the contact that you wish to add.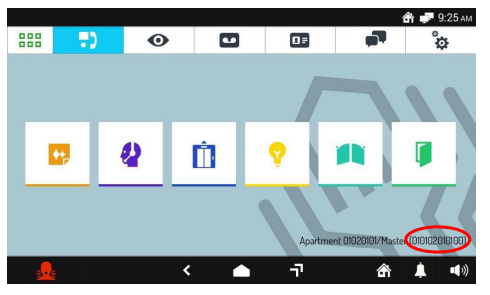 FULL NAME - The name with which your new contact will appear in your address book.
SENDER - Name and surname of the peron who sends the request. By default, this field is pre-populated with the indentifier code of the Video Door Phone sending the request.
MESSAGE - An optional message of max 140 characters accompanies the request. The defualt messages specifies the request to add a contact.
In the data entry window the NEXT icon is displayed in which the data entry is confirmed. The DONE icon is used to move on to the next field.
You can also attach an image to your request, by tapping the icon . A pop-up window will open through which you can use an image captured by your video camera or contained in the internal memory.
After you have completed all the fields, tap the icon SEND REQUEST to send to the recipient your request to add it to your address book. Confirm your sending request in the pop-up window that will open.

IMPORTANT: Adding a new contact to your address book is not automatic. For confidentiality reasons, the request must first be approved by the person that you wish to add, using the procedure described in section 3 How to accept contact requests. In addition, the person who has authorised the addition of the contact may, even at a later stage, revoke the authorisation, by deleting the corresponding contact from your address book.
By tapping the icon

in the top left corner you will go back to the address book.