How to reset Max Lite touchscreen monitor factory settings
To restore factory settings for the Video Door Phone and delete all subsequent configurations:
Turn on the screen, if off, by tapping it at any point or by pressing the centre button on the 1717/4x Video Door Phone.
Tap the icon to access the Top Page.
Tap the icon to go to the general configurations page: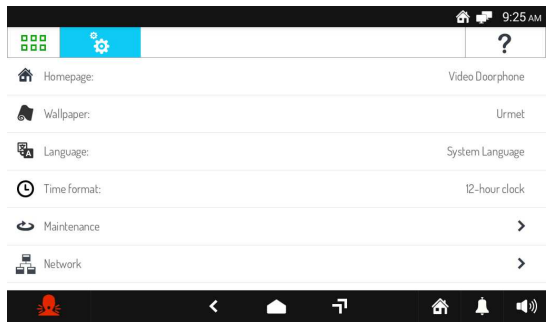 Tap the writing Maintenance. A window opens listing the possible maintenance operations.
Tap the writing Factory Reset. A Confirm pop-up window opens. Tap Confirm to confirm the operation or Cancel to cancel it.

WARNING! The Factory Reset operation is irreversible and requires Video Door Phone configuration, since it deletes all the personalised settings that had been introduced, e.g. the choice of a Home Page, activation of automatic door opening, tune selections etc.
By selecting Confirm, all the Video Door Phone parameters are reset to factory settings and all stored data are deleted.